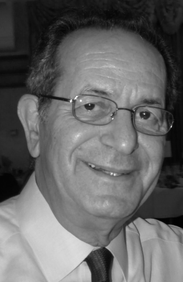 Condolence Book for
Petros FLORIDES
After 02/01/24, this book becomes 'read only' which means that no new condolences may be added.
However, the condolence book may be viewed, saved and / or printed at any time.
Petros was a good friend and family friend of mine. I am very grateful for the help he has given me to go through Kevin Street College, and start up my business. My deep condolence to Despina and family from all of us Theodore Carmel Niko and Christopher.
— Theodore Taktikos
We send our deepest condolences and sympathy to Mr Floride's family, especially to his wife Despoina. We will never forget his kindness and we will always have him in our prayers. Rest in peace.
Savvina, Christiana, Judith, Georgia, from Cyprus.
— Savvina Hadjipanteli
Such sad news. I don't think I can ever remember him without a smile. A true gent. I have so many fond memories. Deepest condolences to all the family.
— Russ F
Sincere condolences to Despina and all of Petros's friends and family. He was a true gentleman, as well as a scholar and a great ambassador for his native Cyprus. RIP.
— Chris McKenzie & Shane Mulligan
Dear uncle, your kindness, wisdom, success, and generosity left a positive impact. You were a source of inspiration and a true role model in my life. As I reflect on the short memories we shared, I am grateful for your advice and words of encouragement. Your legacy will continue to inspire us to strive for excellence.
Rest in peace.
— Marios Constantinou, grandchild of Andreas Florides
Much loved, greatly respected, he was a great friend for many years and will be sadly missed for even longer.
Thinking of you all at this sad time.
— Fidelma, Sara and Clíona Ryan
Fond memories of a true gentleman. Condolences to the Florides family.
1984 graduate.
— Mary Culkin
Sincere sympathy and condolences to Con and the extended Florides Family on the death of your Dad RIP.
— John Joe Healy
A true patriot and a distinguished scientist, a source of inspiration, Petros Florides, served the University of Cyprus (the first public university of the Republic of Cyprus) as a member of the Preparatory Committee for its establishment and later as Chair of the Selection Committee for the recruitment of the first academic members of the Department of Mathematics and Statistics (1989-1996). He will always be remembered with love and the utmost respect, as a citizen of the world and an invaluable member of the Cypriot Diaspora who honored his country and the global scientific community.
The University of Cyprus community extends its sincere condolences to the family and dear friends of Petros Florides. He will forever hold a special place in the history of our institution.
— Prof. Tasos Christofides, Rector of the University of Cyprus
Sincere condolences to Andros, your mother and all the family. I well remember my General Relativity course with Prof Florides, and his ready smile and good humour through tricky material. He always had a warmth and genuine interest in his students. Best wishes.
— Matt Davey
Sad to hear of the Passing of Petros. I met him many times growing up through my parents and again in the last few years and always found him to be a very nice man. Wishing Despina and his 3 boys strength at this sad time.
— Mike Joannides
Very sorry to hear of Petros' passing. He was a very pleasant and helpful man, and I always enjoyed meeting him.

Sincere condolences to the family.

Vincent Hart, Brisbane
— Vincent Hart
Condolences to PROF FLORIDES family; he was a unique individual who brought light and joy to his encounters!
— Brian OConnell, FORMERLY TCD LIBRARY STAFf
With great regret we say goodbye to Mr. Petros,a brilliant scientist,an excellent one and kind man,a family man, a man with morals and dignity.
Sending our deepest condolences to his family and loved ones.
Courage and strength.
We hope he has a good Heaven.

Με μεγάλη λύπη αποχαιρετούμε τον κο Πέτρο ,έναν λαμπρό επιστήμονα , έναν εξαίρετο και καλοσυνάτο άνθρωπο ,έναν οικογενειάρχη , έναν άνθρωπο με ήθος και αξιοπρέπεια.
Θερμά συλλυπητήρια στην οικογένειά και τους οικείους του.
Κουράγιο και δύναμη.
Ευχόμαστε να 'χει καλό Παράδεισο.
— Nikos Kofinakis Christina Korre
Dear Despina,

We are very sorry to hear about the passing of Petros. He was always such a friendly and kind gentleman and we shall miss his beautiful smile at Irish Hellenic Society events. We wish to offer our sincere condolences to you and your family at this sad and difficult time.

May his memory be eternal.
— Jonathan O' Neill Claire Cunneen ( Irish Hellenic Society)
My sincere condolences to all of the Florides family. Petros was my personal tutor and lecturer in the 1970's. It was always a pleasure to attend his lectures, for his clear presentation and enthusiasm. He was a caring tutor. I am very sorry to hear of his passing.
— Eoin O'Reilly
Dear Despina, we were very sad to read of the death of your dear Petros. We have such lovely memories of him, especially his smile and his warmth and I still remember the happy times we had when all the boys were growing up. Our deepest condolences to you and all the family.
— Sophia ( Goulandris ) and Mark Leonard
We are truly saddened by the loss of Petros and wish to extend our sincere sympathies to Despina and all the family.
Every time I met Petros I was always struck by his warmth, kindness and gentleness. He was a true gentleman and scholar and will be sorely missed. Ní bheidh a leithéid arís ann.
Michael and Aileen
— Michael Youlton and Aileen Cashman
Profs' care and concern for his former students extended well and above normal parameters. I'll miss his gentle jovial soul gracing the people's park!
— Duncan Healy
I am so sorry to hear about the passing of your father Con. We hold you close in our thoughts and wish you and your family peace during this time of mourning.
— John Guilbert
My condolences to Con and the Florides family. My thoughts and prayers are with you all at this difficult time.
— Kim Murphy DHLGH
We are deeply saddened to learn of the passing of Con's father Petros. Sincere condolences and deepest sympathies to family and friends at this difficult time.
— Alison Boland (DHLGH)
I would like to offer my deepest sympathy to you and your family. May the soul of your father rest in peace. Please know we are thinking of you during this painful time. As your work family, we are here for you.
— Vignesh M
Deepest sympathies to Con & family on your loss.
— Neal Brophy, DHLGH
We are deeply saddened by Petros passing. Please accept our sincere condolences.
— George Boutlas & Athanassia Dimitraka
Although our paths did not cross frequently Petros was a long and loyal friend to our family over a great many years and we were privileged to know him.
— Nicholas Koumarianos
Petros was a genuine and generous person. A real gentleman. I've no doubt he will be deeply missed by his family and many friends. Sincere condolances to Despina and family.
— Kimon Joannides
Deepest sympathy Despina on your very sad loss. May Petros R.I.P.
— Yvonne Ryan
Sincere condolences to Serghios, your brothers, mum and the rest of the family. Petros lectured me in Trinity and left a mark for his kindness and patience with his students. Even when marking you down, he did it with an understanding smile and genuine hope that you would do better next time! He will be missed.
— Ivan O'Brien
I wish to offer my very sincere sympathy to you Despina and family on the loss of Petros. So many happy memories for me that we shared together. I was privileged and honored to meet in the 1970's through the Irish Hellenic Society. He will be sadly missed, May his gentle soul rest in peace.
Pat Waldron
— Patricia Waldron
Our deepest sympathy to Despina and family. Petros, a very, very dear friend, will be sadly missed. He was kind and humble always willing to help his students in their mathematical studies. Wonderful to have known him. Rest in Peace Petros.
— Val and Margaret Duffy
Serghios, very sorry to hear your sad news. I remember your lovely father well. Much love Shirley xx
— Shirley Brooke (Powell)
Rest in peace Dear Uncle Petros. Love from Melina. Daughter of Petros Florides in Sweden.
— Melina Florides
Con - so sorry to read of your recent bereavement in the newspaper this weekend. Sincere condolences to you and your family. Best wishes. Carl
— Carl Collings
Sincerest condolences Despina and family on the passing of dear Petros. We were so fortunate to know him, such a kind, learned gentleman, and inspiring founder-member of the Irish-Hellenic Society.
— Mary MacKenna
A true gentleman and a scholar, he will be very much missed. Deepest condolences to Kyria Despina and all the family.
— Theo Dorgan
Dear Despina and family ,we are very sad to hear of the death of Petros, a truly kind and wise man. Many happy get-togethers were spent in Dublin and Amarynthos ,with my late father Des Kavanagh ,his good friend Thomas (deceased) and his lovely daughter Anna. Our thoughts and prayers are with you . Suaimheas sioraí dá anam dilís .
🕯🕯🕯
— Sarah Petrie (neé Kavanagh ),Gordon & Family . - Edinburgh
We will miss your warmth and your frienship. Since we are currently in India we will sadly miss your funeral service.
— Anita and Siddhartha Sen
Αγαπητοί μας Δέσποινα, Σέργιο, 'Ανδρο, Κωσταντίνο,
Τα πιο θερμά μας συλλυπητήρια για τον Πέτρο μας που χάθηκε τόσο ξαφνικά και απρόσμενα. Καλό σου ταξίδι, Πέτρο. Στην ζωή σκόρπιζες αγάπη, γνώση, και έννοια για τους γύρω σου. Η αγάπη σου για την ποίηση και την μουσική - οι ιστορίες που μας διηγόσουν, οι μελωδίες από το βιολί που μας έπαιζες- , η ζεστασιά της παρουσίας σου θα μας λείψουν, αλλά θα είναι για πάντα στην μνήμη όλων μας. R.I.P.
— Christina and Eric
It is with the deepest sorrow that we learned the shocking news of the passing of Petros, our dear friend for many years. Though our words are inadequate, Despina, Serghios, Andros and Constantinos, we send our heartfelt condolences and our love to you at this very difficult time. Petros meant a great deal to us, and it was an extraordinary joy to call him our honorary uncle! We loved to be in his warm, good-humoured presence and we had been looking forward to getting together with him on his return from Greece. As a teacher, he inspired many of us, giving us our first real glimpse into the world of Relativity, but it was a far greater privilege to become close friends with such a wonderful gentleman. He will remain in our hearts for as long as they beat.
— Noel Gorman and Phil Mulvaney
Our sincerest condolences to Despina and family.
We treasured our long friendship with Petros. It was always a great pleasure to enjoy time with Petros and Despina.
May he rest in peace.
Zoe and Cyril Byrne
— Cyril and Zoe Byrne
Myself & my daughter Jane would like to extend out deepest sympathies to Despina & family on the sad passing of Petros. Petros was a great friend to our sister/aunt & brother/uncle Brid & Brendan. We always enjoyed meeting him. He was an absolute gentleman. May his gentle soul rest in peace
— Marie Cregan nee Cahir
Sincere condolences to the Florides family. I worked with Prof. Florides in the Department of Mathematics at TCD. He was always such a kind and caring colleague with a great sense of humor. He will be missed.
— Breda O'Neill
My I offer my sincere sympathy to the family of dear Prof. When I started as an undergraduate in TCD in the 80s he was my personal college tutor.
I always enjoyed going to see him..wise wisdom and support was dispensed over cups of delicious coffee

My late father highly regarded Prof as a friend and colleague, and though in different departments, enjoyed meeting him in the SCR
RIP dear Prof and I will keep your family in my thoughts and prayers over the next difficult days weeks and months
Niamh
— Niamh Buckley Oxford UK
He was such a wonderful man to know. He was always very encouraging of my research in Greek history, and was so complimentary. I am glad I knew him. Patrick
— Patrick Comerford
My deep sympathies at the passing of Petros He was a wonderful colleague in TCD and loved by all .
— Yvonne Scannell
Please accept our deepest condolences at this very sad time, in sympathy, Vassily, Anna Kotsonouris and families
— Anna Kotsonouris
Deepest condolences to Professor Florides' family. He was a wonderful teacher and I have fond memories of his lectures in TCD as a maths undergraduate, and also his warmheartedness as provost in Trinity Hall in Dartey in my first year.
— Dennis Curry
My deepest condolences to the Florides family on the sad loss of a truly wonderful person. Petros was an inspiration to so many in the way he engaged with and cared for his students, and in the depth of his scholarship. His role as Warden in Trinity Hall marked a wonderful time in the life of so many of the students he looked after. I always looked to his example when I took on that role some years later, and was but a poor shadow in comparison. He will be greatly missed in College by all who knew him. May he rest in peace.
— Carmel O'Sullivan, Trinity College Dublin
Dear Despina, Serghios, Andros and Konstantinos,
Our sincere condolences to you all. For me, Petros was a wonderful colleague and companion, and a marvellous voice of sanity in difficult situations. He could always raise a smile, even when things looked bleak. We will miss him and regret that we will be unable to be with you at this time.
Andrew and Marie-Christiane Torrance
St. Martin d`Ordon,
France
— Andrew Torrance
My dearest close friend , Despina .
We have just spoken and you know how sad I am for you and the family . Please remember the long happy decades you've had together and we shall join both our husbands in the NOT too distant future . I am trying to get clearance to fly after my tragic accident and will know more on Monday morning. If not, I will be with you in spirit . Hard to believe we met 60 years ago .. tempus fugit . Keep your spirits up and know that he loved you all his life
With all my love and condolences
Anne (Tormey) in Cannes xx
— Anne Tormey
My sincere sympathy to Despina and all the family. I am very saddened at the loss of my good friend Petros, he was a wonderful person , a good human being and great scholar. It was a privilege to have a friend like him. His contribution to the Greek community and the Irish Hellenic community will not be forgotten. My dear friend Petros rest in peace in Heaven and from my family to all your family Despina deepest condolences, for the loss of a gentleman and friend, he'll be greatly missed. Dimitrios Tsouros
— Dimitrios Tsouros
Our sincere sympathies to Despina and all the family on their sad loss: a truly wonderful man….may he rest in peace.
— Fergus and Patricia D'Arcy
Dear Despina and family
How sad we are to hear of the death of Petros one of the loveliest human beings we have been privileged to encounter. The phrase" Gentleman and scholar" could have been coined for him. We will miss his smiling, encouraging presence at so many Trinity events. Ar dheis De go raibh a anam uasal. We send our prayers and condolences to all who loved and miss him.
— Mary and Martin McAleese
Deepest condolences from us all. Petros was always a huge academic role model for me, and I'll continue to try to follow his example.
— Antonio Salveta
Petros was a lovely person and very helpful to us both. We are sorry that we will not be able to attend the funeral service as we are out of the country.
— Brendan and Ann Goldsmith
I first met Petros fifty years ago as a freshman in TCD. He was my tutor. I appreciated his kindness for half a century. I treasure the book he gave me nine years ago, "Ireland-Cyprus: Parallel Journeys. Common Aspirations". It is to hand here in Larnaca. I offer his family my sincere condolences. May happy memories of this great man be as blessings to you.
— Maurice OReilly, Larnaca & Wicklow
Our deepest sympathyto Despina and her whole family at this difficult time. Petros always had plenty of time for a friendly chat and as a friend and colleague at Trinity ,enjoyed his great animated sense of humour
— Francis and Molee Neelamkavil
Sincere sympathies and condolences to Petros' family, friends and colleagues.
He was a wonderful teacher and gentleman.
May he Rest In Peace
— Paul Nugent
Petros was a good friend to my late father, Frixos and my mother, Peggy. My memories of Petros are of a kind, warm-hearted man who was always very welcoming. Condolences to Despina and family.
— Markos Joannides