Search Last 7 Days Death Notices
Funeral Directors serving Clare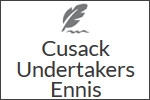 Funeral Directors
Ballybeg, Shannon, Ennis, Co. Clare
Cusack Undertakers Ennis is a family owned and managed Funeral Directors and Undertakers providing a full range of funeral services throughout County Clare.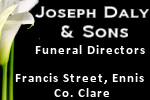 Funeral Directors
Francis Street, Ennis, Co. Clare
For over 150 years Joseph Daly & Sons (incorporating Morgan McInerney & Sons), have been trusted by the people of Clare to care for their needs in handling their funeral arrangements.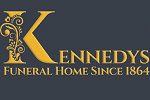 Funeral Directors
(I.A.F.D) (P.E.A.I)
Parnell Street, Ennis, Co. Clare
Kennedys Funeral Directors is one of Co. Clare's longest and most established funeral directors. We are a fifth-generation family business, passed directly from father to son.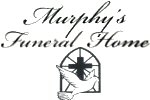 Funeral Directors
Funeral undertakers serving Kilmaley, Connolly, Inch, Inagh, Lisroe and the surrounding areas. We also provide a complete funeral service for home wakes and removals from further afield.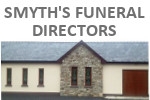 Funeral Directors
Smyth's Funeral Directors are a family-owned and operated funeral business which has been passed down from generation to generation.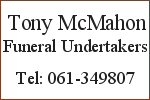 Funeral Directors
Blackwater, Newmarket-On-Fergus, Sixmilebridge & Shannon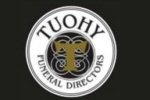 Funeral Directors
Coose, Whitegate, Co. Galway
A family run facility serving the Lough Derg Hinterland and beyond we cater for all details of the funeral process in a sensitive and caring manner. We aspire to help you in every way possible in your time of difficulty.