Search Last 7 Days Death Notices
Headstones & Monuments serving Wicklow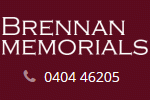 Headstones & Monuments
3 Main Street, Rathdrum, Co. Wiclow
Brennan Memorials is a family owned and operated business based in County Wicklow.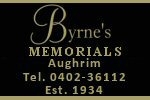 Headstones & Monuments
Byrne's of Aughrim Memorials, Ph. 0402-36112 or 086-8415972. We have designed and supplied headstones all over Leinster.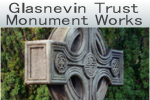 Headstones & Monuments
Glasnevin Cemetery, Finglas Road, Dublin 11,
Give your loved ones the tribute they deserve with a headstone from Glasnevin Trust Monument Works.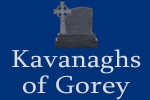 Headstones & Monuments
17 Grattan St, Carnew Road, Gorey, Co. Wexford
Kavanaghs of Gorey has been a family run business since it was founded by Johnny Kavanagh in 1982. We uphold the proud tradition of the manufacture and carving of fine memorials in limestone marble and granite.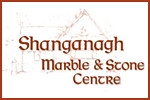 Headstones & Monuments
Crinken, Bray Road, Bray, Co. Wicklow
Shanganagh Marble & Stone Centre was founded in 1984 and is a family owned business with an impeccable reputation.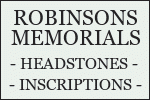 Headstones & Monuments
Unit 2B Eklad Park, Malahide Rd., Ind Estate, Dublin 17
Robinson Memorials & Headstones have over 30 years of experience producing headstones for all cemeteries in or outside Dublin. We can renovate, realign or simply touch up your existing headstone.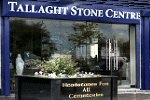 Headstones & Monuments
Belgard Road, Tallaght, Dublin 24 (opposite Jacobs)
At Tallaght Stone Centre, you will find a magnificent selection of some of our memorials and monuments in Dublin.